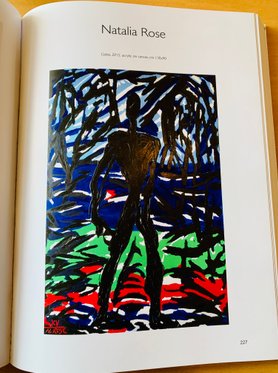 "Denmark based, and Russia born, Natalia Rose creates
layered acrylic abstract paintings exhibiting her masterfully
orchestrated use of color to explore composition and dimensions of
a subject reflectively.
She draws on her experiences in Eastern and
Western Europe to stimulate thought and reaction and inspire beyond
recognition of identity.
She is studying the influence of multi-dimensional
reality in the physical realm, through art. By applying thick
layering, and what would initially appear as spontaneous
brushstrokes, Rose challenges the traditional ideologies of
beauty.
With an abstract approach to her figurative work, Rose
exhibits "Calais." She explores her reaction to the refugee
humanitarian crisis in Europe, turning to the therapeutic
influence of her color choices in subtle contrasts. Her brush
strokes are determined and fierce, and the composition
evokes hope, this image is illustrative of more universal
feelings and reactions, moving beyond the subject. With a
rich cultural background, Rose taps into that aspect of her
life, using methods that appeal to a diverse audience; making
her work relatable to both sides of a narrative.
Traditional maps of color from both Danish and Russian mythologies
create warm patterns that invite a sense of history, as well as
home." "Art Tour International Magazine" New York

Top 60 Masters 2019 April 2019 NYC