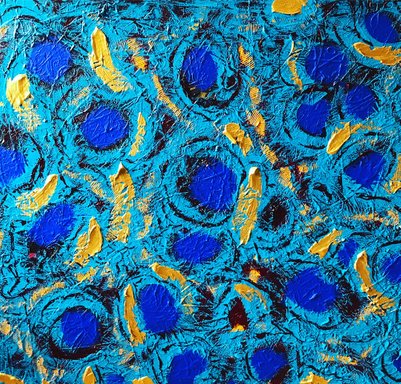 Natalia Rose's painterly abstractions convey a sense of delirious happiness. Although they look like the product of spontaneous gestural painting, her works are in fact carefully crafted to convey their sense of frenetic energy, each brushstroke, thick swath of acrylic, or vibrant color deftly deployed in the creation of an overall sense of manic exuberance. But it is not Abstract Expressionism or Action Painting - Rose's bright canvases are often more playfully ironic and confrontational than lyrical; she even works some realistic objects into several of her otherwise abstract works.
Her style of painting has a story-telling attribute to it. The paintings are layered and have taken several reiterations to achieve their final result. The works therefore appear multi-layered in their narrative while at the same time maintaining a uniform thread of meaning.
"When I paint, I layering and overpainting, eliminating, what I dont't like and keeping, what is working. Work can take month, even years to be finished.
Each of my works is an expression of many paintings below the surface."


"I am seeking a new way of seeing..."
Bora Bora, 2018 Acrylic in Linen 120 x 120 x 4 cm