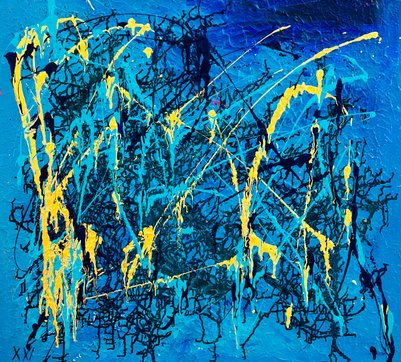 Natalia Rose is a Danish artist best known for her semi-abstract works which feature pictograph-like symbols painting with broad and heavy brushstrokes. The artist raises questions about the nature of communication and the way in which one can express abstract and conceptual ideas through colour and iconographic markings. For example, in her painting "I" (2016), the artist uses only essential strokes to spell out her name and create patterns of letters across the canvas. Born in 1953 in Stavropol, Russia she studied at the Moscow State University and later at the University of Copenhagen. In 2014 the artist held her first exhibition in Copenhagen and since in New York, Paris, Barcelona, Amsterdam, Sankt Petersburg and London. Today, her works are held in the private collections across world - in USA, Canada, Sweden and Denmark among others. She is a member of La Société académique ARTS-SCIENCES-LETTRES, Paris France. Natalia Rose lives and works in Copenhagen, Denmark.

"Natalia Rose's painterly abstractions convey a sense of delirious happiness. Although they look like the product of spontaneous gestural painting, her works are in fact carefully crafted to convey their sense of frenetic energy, each brushstroke, thick swath of acrylic, or vibrant color deftly deployed in the creation of an overall sense of manic exuberance. But it is not Abstract Expressionism or Action Painting - Rose's bright canvases are often more playfully ironic and confrontational than lyrical; she even works some realistic objects into several of her otherwise abstract works."
"Her style of painting has a story-telling attribute to it. The paintings are layered and have taken several reiterations to achieve their final result. The works therefore appear multi-layered in their narrative while at the same time maintaining a uniform thread of meaning."
"When I paint, I layering and overpainting, eliminating, what I dont't like and keeping, what is working. Work can take month, even years to be finished.
Each of my works is an expression of many paintings below the surface."
Image: Natalia Rose "Old Story", 2019 Acrylic on Linen 100 x 100 cm